About Barrier Electric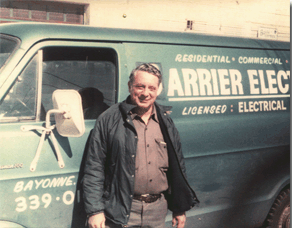 Barrier Electric Co. was established in 1960 by Julio Barrier, who identified an opportunity to provide a quality electrical service to local homeowners and industry, from his in depth practical knowledge and experience gained over a number of years. It was incorporated in 1984 with Julio Barrier appointed as president and his son, John Barrier as vice president. Julio Barrier stepped down as president in 1994 leaving John as president.
In 2001 Richard Cirminello, owner of Dot Electric and later Proven Electric, joined forces with John Barrier. Richard then became the new vice president of Barrier Electric Co., Inc.
The company operates with a core permanent staff and a number of temporary, or sub contractors varying throughout the year. It is our intention to develop and modernize our services and to satisfy our customer's requirements on an ongoing basis.
Our Mission
Exceptional performance in all aspects of our industry.


Outstanding customer service.


Unparalleled value
Our Goals
Focus on Our Customers
For over 50 years our primary goal has been to satisfy our customers. Accompanying this primary goal is a primary benefit: by delivering a service that satisfies the first time, every time, costs go down and efficiency goes up. It simply costs less to "do it right" than to correct the problem or defect later. Satisfied customers are more likely to become repeat customers; unhappy customers will not.
Into the Future...
Continuing to grow upward and outward, Barrier Electric plans to provide the same high level of service to the industry that it always has. All of the employees at Barrier Electric understand that customers want personalized service and quality products at competitive prices. We will satisfy your needs and we want you to know that you can turn to Barrier Electric for the service you deserve.